A Deliciously Different Dessert
Discover Kaurina's kulfi, a sweet Indian treat that delights and satisfies
Bring Us Home To Your Family
Kaurina's Kulfi bars are a convenient snack! Eat them on the go, after a hearty meal. Great size for kids! At only 80 calories per snack size bar you can't go wrong.
Enjoy our dense creamy kulfi in an easy-to-scoop pint. Great for those days when you just want to curl up on the couch and savor the moment.  Me time is kulfi time.
What is Kulfi?
Kulfi is the original ice cream of the Indian Subcontinent. Believed to have its origins in Persia, kulfi was introduced to the region by Moghul royalty in the 1500's. Unlike western ice cream, kulfi is made with only pure cooked milk, cane sugar, and natural ingredient flavors, and contains no added air. The result is a richly flavored, dense, and decadent dessert experience. Kaurina's continues this tradition with our generations old recipe without taking any shortcuts. Try us and see. It's ice cream, perfected.
Discover the delights of kulfi
Kulfi is the original ice cream of India! Made of pure cooked milk, sugar and natural flavors. Kulfi is creamy, rich, and indulgent, yet has half the calories, fat, and sugar of traditional ice cream.
Find Us
Kaurina's kulfi bars are a "better for you" choice of frozen dessert that are rich, intense and creamy with globally inspired flavors. You can find our products at Wegman's, Costco, and other retailers.
Try Us
Desserts these days are boring. Kulfi is different – made from our traditional family recipe, using pure ingredients and natural flavors. Try our kulfi today and finally indulge without the guilt!
Love Dessert Again
Put our kulfi bars on your weekly shopping list – they're like a mother's hug on a stick. Try all of our delicious flavors and enjoy the indulgence of a sweet and exotic dessert that's a healthy option for you and your family.
Ready to bring a delicious, decadent, and satisfying treat home? Find out where we're sold and learn to love dessert again.
Thank you for stopping by.
We hope you love our Kulfi and share it with everyone you know!
Glowing Customer Feedback

Absolutely amazing ice-cream! Sweet without being too filling and sugary. Definitely hits the spot and now I can't get enough!
Daniel A.
North Dallas, TX

When I first saw the Kulfi at Costco, I wasn't sure whether it would be the kind of ice cream replacement I was looking for. After one taste, I was hooked! This is how ice cream should be. It's dense and full of flavor, but it doesn't make me feel guilty for indulging and enjoying! I can't wait to see it in more stores so my friends and family all over the country can try it too!
Pamela G.
Houston, TX

Kulfi is what so many ice cream brands wish they were: rich, creamy, and full of REAL flavor! These little bars and pints pack a lot of flavor and satisfy my craving like crazy! If the ice cream man ever starts selling them, I'm in trouble! Everybody needs some kulfi in their life!
Brian R.
San Jose, CA
Subscribe and Get Updates
Stay up to date on the latest kulfi flavors and delights, our community events, news, and special promos delivered straight to your inbox!
Where To Find Us
Kaurina's is the premier manufacturer of authentic Indian Kulfi. Our family recipe goes back generations.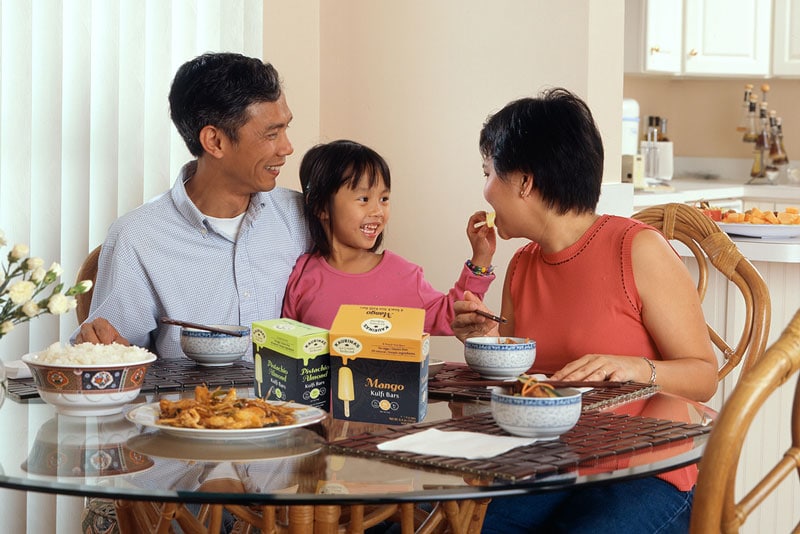 The Latest Video News